Bareboat/Crewed Yacht Charters
Charter a 29-65 foot sailboat to sail yourself or hire a skipper and/or crew or up to a 200+ foot motoryacht fully crewed. Charter and sail the Saronic Gulf(Athens, Aegina Poros, Spetse, Peleponnesus etc), Cyclades(Mykonos, Syros, Santorini, Sifnos etc...), Dodecanese(Rhodes, Kos, Leros, Patmos etc...), Ionian(Kefalonia, Corfu, Lefkas etc...), Sporades(Skiathos, Skopelos etc...), Croatia
and Turkey

To view photos and Interior layouts of the different yachts....click here
Bareboat Charter is when you charter a yacht(with or without a skipper). You get the basic yacht but then have to

pay for fuel, water, docking, insurance, end cleaning and the skipper if you have one. The charters usually start from a large base outside of Athens or on one of the islands. They normally run from Saturday 5pm to Saturday 9am the next week. There is some flexibility with the starting time in that you can usually leave early if the yacht and skipper are ready and you were able to complete the check in procedure. Companies are less likely to extend the charter after 9am because they need the time to prepare the yacht for it's next charter.
If you want to charter the yacht without a skipper then you will have to have a certificate from a recognized sailing program or be able to prove your experience as a skipper. I'm not sure how strict they are, but I just collect the documentation and pass it on to the charter company and they will decide case by case. They have turned out to be a lot less strict than I thought they would be but it will depend on your credentials.
If you charter with a skipper you will have to pay his salary(140 euros a day), he gets his own cabin and you will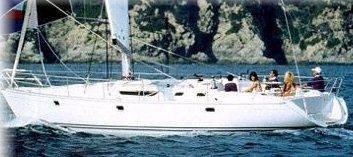 have to provide him with his meals. He will usually eat with you which is actually a plus because he can take you to the good tavernas(restaurants) and help you order the best foods! If he doesn't eat with you then you can give him money to go out and eat on his own. You will be able to figure out how to go about it once you meet with him and you'll see how you get along! I've had many people who are extremely experienced and qualified to sail on their own hire a skipper because they like having access to the personal knowledge of the skipper(as well as less responsibility for the yacht).
You will also want to take out insurance. There are two kinds: a lower non-refundable or a higher refundable. The non-refundable is about 30-60 Euro a day depending on the yacht and will cover any damage to the yacht. The refundable is in the neighborhood of 1500-2100 Euro and like a deductable which you will pay to cover the damage to the yacht. If the damage exceeeds your deposit then they'll be no refund. If the damage doesn't exceed the deposit then you will get a refund. If you hire a skipper, you are often still responsible for damage if he causes it. That is a problem I have run into and it can cause a lot of conflict, therefore I think it is probably better to get the non-refundable deposit and not worry about it. Navigare Yachting uses their own skippers so they waive the deposit which is a nice bonus and needs to be figured in to the complete cost of the yacht
I'm often asked about itineraries months in advance! I would not worry about that until you arrive at the yacht. You will want to look at the weather and make the decision so that you have the most comfortable sailing conditions. There are very few things worse than fighting the winds and the waves on a sailboat because you planned your itinerary months in advance. You have the choice of battling the elements or using them to make your sailng as pleasurable as possible.... If you have a skipper he will be a valuable wealth of information and anything you planned in advance may be completely disregarded once you get more information from the skipper. I call them walking and talking 24 hour tour books!
If you have more questions about bareboat charters in Greece, please don't hesitate to ask me.... email David