The "7 WONDERS ODYSSEY"
Aboard the yacht ANATOLIE for 2016
Next will be June 26th 2016 to July 2nd and September 3rd to 10th.
On June 26th, boarding the morning in Athen's marina, then leaving immediately for Aegina island.
You will disembark the Saturday morning 2nd July for our transfer to Athens Airport (you will be there 1pm).

On September 3rd (route in reverse), meeting for transfer to the yacht is 4:30pm September 3rd on the Athens Airport, and you will disembark to Athens marina the next Saturday morning after breakfast.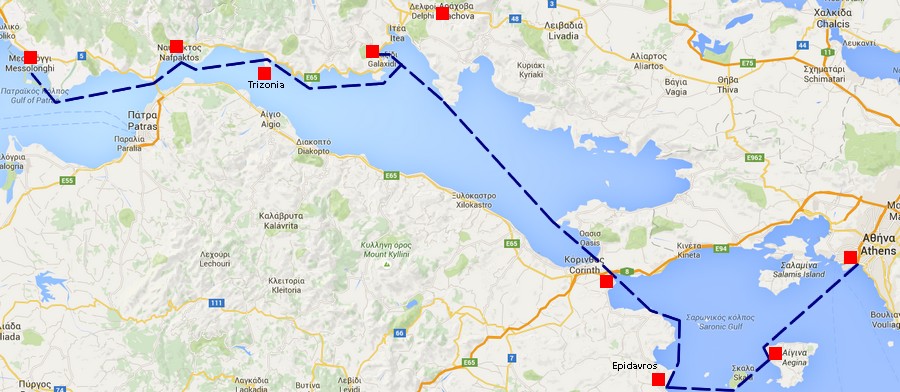 During this voyage you will admire and discover many treasures of Greece.
Rather than road trip you will sail and stop in nice coves to enjoy the sea.
---
Indicative route:
Day 1: Boarding in Athens Marina the morning, then Aegina island
Day 2: Epidavros
Day 3: Epidavros visit - Leaving after lunch - Evening and night in a cove close to Corinth
Day 4: Corinth canal - stop in a creek at noon - Galaxidi
Day 5: Galaxidi (visit of Delfous) - Trizonia island
Day 6: Trizonia - Nafpaktos - Messolongi
Day 7: Landing till 9:00am, transfer back to Athens Airport

Breakfast and a meal per day are taken on board, the other meal in the typical tavernas on the islands.