ABOUT THE R.Y.A.
'Simply the Best' ... probably the most widely known sail training in the world; we believe that RYA training is also the finest sailing instruction you can get.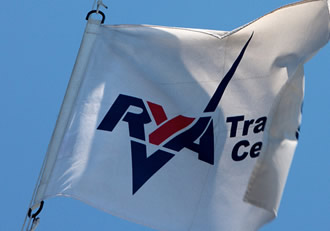 RYA stands for the Royal Yachting Association. Although the RYA is a British organisation there are over 2,200 RYA recognised training centres in more than 44 countries. In the UK they represent all forms of water sports, from windsurfing to cruising yachts, both sail and power. They are also responsible for training the British Olympic sailing team.
The RYA imposes rigorous standards on the training establishments recognised to run their courses. This involves an annual inspection visit to each school to check the boats, equipment, instructor qualifications, paperwork and systems. Failure to meet their standards results in having RYA recognition removed.
We know of no other organisation in the world that enforces such a 'hands on' inspection policy and it guarantees that the training you receive will be of the highest standard. This meticulous insistence on standards is why RYA certificates are accepted and respected throughout the world.
All RYA instructors must be trained and qualified in instruction as well as being top-notch sailors.
The RYA produces excellent training materials. You will receive a colourful, highly illustrated course book when you start your course, with diagrams and images to explain every aspect of the training. Shorebased materials include specially produced training charts and Almanacs, a simulation chart-plotter, online material and full theory course materials right up to Yachtmaster level.
At skipper level courses the RYA is unique in its approach, separating the theory from the practical study. This means that, on a practical course, you can concentrate on practical sailing, navigation, and boat-handling. You won't spend hours learning theory on board; you can do this beforehand, either as a shore based course or as distance learning. There is an RYA Essential Navigation and Seamanship course that you can take online in the comfort of your own home and at a pace to suit you. Alternatively, we offer combined packages that include both theory and practical.
Your practical abilities will be judged on the basis of your performance during the course. There is no written examination for the practical certificate - good news for anyone who hates exams and especially welcome if English is not your first language.
In addition to sailing and powerboat courses, the RYA runs courses in Marine Radio Operation, Diesel Engine Maintenance, First Aid at Sea and Personal Sea Survival. All of these are available through our school. The RYA constantly reviews and upgrades its courses and materials, often in response to requests made by training schools such as ours at the annual Yachtmaster conference, which our Principal, George, attends.