THEORY COURSES
RYA Navigation and Seamanship
This course is for anyone interested in sailing, motor boating, sea angling or diving, and works well in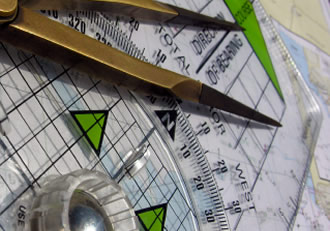 complementing our on-the-water training.
it is a highly informative course with lots of opportunities for you to put your new found knowledge into practice. If you decide to take the course online, you will find many interactive exercises to help reinforce the information and lots of chances to try out what you've learned.
In the classroom, the course is taught over 16 hours with exercises to complete along the way. It can be covered as a series of short sessions or over two full days.
Online the course will take around six hours, but the beauty of it is that you can work through it at your own speed, whenever and wherever you like. All you need is internet access and your course pack.
You will receive a course pack which includes a chart, plotter, dividers, course handbook, exercises and an electronic chart plotter CD.
Course topics include:
charts and publications
safety
engine checks
buoyage
tidal awareness
visual and electronic navigation
pilotage
rules of the road
anchoring
weather forecasts
passage planning
A taster of the course can be seen on the RYA Interactive website (https://www.ryainteractive.org/)
ONLINE COURSE: 115 € including delivery within Europe, 150 € outside Europe.
CLASSROOM COURSE: 150 € per person for 2-day course excluding accommodation.
RYA Day Skipper Shore-based
A comprehensive introduction to cruising for inexperienced skippers.
This course equips you with enough knowledge to navigate around familiar waters by day. A basic knowledge of lights is also included to introduce you to night cruising.
The RYA continually updates their courses to take into account developments in technology and the electronic navigation aids now available on most cruising boats.
In conjunction with the UK Hydrographic Office they have developed a chart plotter specifically for use on training courses, giving you a realistic insight into electronic navigation. Use of this plotter is an integral part of our Day Skipper shorebased course.
The course is taught over 4 days with two exam paper, or you can take it by distance learning. Contact us for more information.
Course topics include:
the basics of seamanship
the essentials of coastal navigation and pilotage
chartwork
electronic charts
position fixing
plotting a course to steer
weather forecasting and meteorology
tides
collision regulations
construction, parts and equipment of a cruising boat
emergency and safety procedures including distress calls,use of flares, safety harnesses, lifejackets and liferaft
ONLINE COURSE: 300 euro; including delivery within Europe, 335 euro; outside Europe.
CLASSROOM COURSE: 400 euro; per person for 4-day course including 4 nights in a hotel.
Yachtmaster/Skipper Shore-based
Advanced training for more experienced skippers building on the Day Skipper course.
This course equips you to navigate safely on coastal and offshore passages. It allows some time for revision of the basics and then moves on to advanced navigation techniques.
The course will take your theory knowledge to the standard required for the Coastal Skipper and Yachtmaster Offshore practical exams, concentrating on advanced navigation and meteorology skills.
As with the Day Skipper shorebased course, the RYA's specially designed chart plotter software will be used during the course to give you a realistic taste of modern electronic navigation.
The course is taught over 5 days with three exam papers, or by distance learning. Contact us for more details.
Course topics include:
position fixing
course shaping and plotting
tidal knowledge
use of almanacs and admiralty publications
electronic position finding equipment
taking and interpreting forecasts
plotting weather systems
weather predictions using a barometer and by observation
collision regulations
customs and excise regulations for cruising
ONLINE COURSE: 300 € including delivery within Europe, 335 € outside Europe.
CLASSROOM COURSE: 400 € per person for 4-day course including 4 nights in a hotel.
RYA Diesel Engine
The engine sputters to a halt, and you wouldn't know your piston from your elbow. What do you do? Take this essential maintenance course, and pick up the quick-fixes that can get you home in time for tea! If you're planning to buy your own yacht, or simply interested in the workings of the boat you're sailing, you'll find this course invaluable. After an enjoyable day of hands-on experience, and a short test, you'll be awarded an RYA certificate.
WHAT YOU'LL LEARN:
Your tutor provides an introduction to the marine diesel engine, enabling you to recognise early warning signs and fix common problems. You'll learn about the principles of diesel engine operation, fuel and cooling systems, electrics, fault finding, routine maintenance and winter lay-up procedures. The RYA diesel engine course book is included in the fee.
COURSE ESSENTIALS
Marine Radio Operator

Pick up your Radio Operator's certificate in this short, sharp course. If you have a marine radio on board, at least one crew member is required to hold this certificate. Our one-day course is an easy way to get it. As well as learning basic procedure, you'll learn how to use your radio to communicate with other boats and for safety purposes. At the end of the day you sit a short test and successful students will be awarded an internationally recognised certificate.
WHAT YOU'LL LEARN:
The course covers GMDSS, operating VHF radio telephone fitted with digital selective calling (DSC), routine procedures, frequencies, phonetic alphabet, distress procedures, urgency, safety, and shore liaison.
COURSE ESSENTIALS
Basic Sea Survival
It'll probably never happen. But if you're planning a sailing holiday or intend to live onboard your own yacht, you'll draw confidence from a mental bank of survival tips. This Survival course is designed for crew on small craft and covers use of life-rafts (inflating and entering), flares, and search and rescue techniques. You'll have the opportunity to test out survival equipment in the water so you'll be better prepared if you ever have to use it in an emergency.
WHAT YOU'LL LEARN:
All the essentials for working as a team to survive at sea.


COURSE ESSENTIALS