OUR TEAM

"I was lucky enough to be introduced to sailing as a boy and developed a lifelong passion for the sea. Being on a boat satisfies a deep desire to be in unison with nature and the elements. Now I enjoy teaching others and get a lot of pleasure from seeing sailing become part of their lives."
George Burton, Principal
The history of our school has strongly influenced the way we run our course - we aim to provide an enjoyable holiday as well as great tuition. We originally came to Greece to fulfil our dream of spending a couple of years living on our yacht – and we soon decided not to leave. We set up a skippered charter business and when we started getting enthusiastic requests for sailing tuition, we established the first RYA recognised sailing school in the Athens area.
Today we welcome hundreds of students every year from around the world, who come to fulfil their own dreams.
Over the past six years we've grown from berthing a single boat on a rickety pier to having our own yacht pontoon in the main harbour. As the school has expanded we've worked hard to retain the personal service and relaxed atmosphere that our customers love.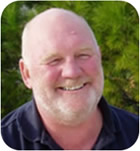 George Burton the School Principal, is an RYA Yachtmaster Instructor, qualified to teach every level of sailing. He's been a sailor all his life, first skippering open whalers and cutters at 12 years old! After 30 years with the Royal Navy, where he instructed in sailing, diving, seamanship, and sea survival, and another 15 years skippering yachts in Scotland and sailing all around Greece, George's experience is second to none. A keen cook and shellfish enthusiast, when not sailing George enjoys watching rugby, listening to blues, and making great food.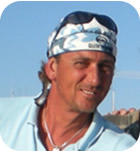 Mark Cooper has been with the school in 2007 and Chief Instructor from 2010. Mark is an RYA Yachtmaster Instructor, Advanced Powerboat Instructor, and Senior Dinghy Instructor. He has spent most of his life since a young boy participating in water sports. Raised in Cornwall , Mark was a keen surfer and windsurfer in his younger days. He has also campaigned catamaran dinghies in worldwide events for 30 years, being the F18 catamaran National Champion in 1999 - a major personal achievement. Mark retired from the Royal Navy in 2004 after 23 years service as a hydrographic surveyor. When not sailing you'll find him on a friend's boat or in a nearby taverna sipping a cold beer, talking about boats and enjoying the Greek après sail.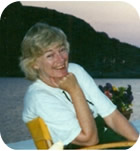 Melody McKay Burton is the company Marketing Director but she also handles most of the enquiries personally. She's available by telephone, email or Skype, to offer advice or answer questions. As a qualified skipper herself, Melody knows what is involved in getting through each of the courses. Melody's background is IT and she enjoys playing with all the 'techie' stuff. She runs the website, the Ship's Blog and the sailing school Crew Club and mailing list. When not at her computer or sailing, Melody likes to walk, paint, and research genealogy.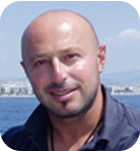 Erion (Nektarios) Doce is a Powerboat skipper and trainee Yacht Skipper. He is in charge of ensuring everything on board the yachts is ready for you to leave, and his smiling face will normally welcome you back at the end of your trip. If you are looking for a fun trip in our RIB exploring the secret places around Aegina or Agistri, Nektarios is the one to speak to. He can also arrange hire of motor bikes, quads, and cars for those who want to go sight-seeing by road.