PRIVATE SAILING COURSES
We specialise in private tuition for couples, families and groups.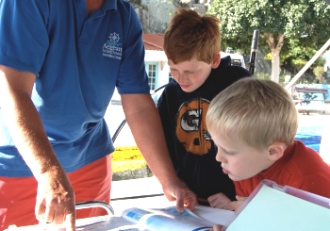 Private tuition means you do not need to share a boat with people that you don't know. Our instructors sleep on board the yacht as they are responsible for the safety of you and the vessel, but they are experienced in intruding as little as possible on your privacy.
With a private course you can have more say as to the type of places you want to visit, whether peaceful bays or busy harbours. You can start the day whenever you want to (within reason!) and take your evening meal whenever you wish.
If you're a couple, you'll receive a lot more individual attention than would be possible on a group course. We always make sure students learn as much as they want; we don't restrict ourselves to the syllabus if there is time to teach beyond it.
Sailing with the Family
We will take children of any age on a private course – we've even had babes in arms – but there are special considerations when sailing with young children. Taking a Competent Crew course together is a great family experience. Even quite young children can join in and help to steer the yacht and carry out other tasks. Those of 10 years and over can take an RYA course while younger children can complete our own Sailing Dolphin book to get a certificate.
We recommend taking your course over six days rather than five, to have a more relaxed pace which gives the children more time for swimming and relaxing.
It is possible to have children on board when mum and/or dad take their Day Skipper course, but this is a little more difficult as the course is more intensive. We're happy to discuss family sailing with you or you can check out our blog which has some articles on the topic.
Coming Alone?
Normally two people is the minimum that we can take on a private course but we can run a course for just one person if you take one of our qualified staff on board to crew for you in addition to your instructor.
Luxury Airport Transfers
To make the whole experience more relaxed we can arrange for an English-speaking taxi driver to meet your incoming flight at the airport and take you to the ferry port in an air-conditioned Mercedes.
Own Boat Tuition
We can supply an instructor to give you tuition, either on your own yacht or on any suitable boat that you have chartered. If you have plenty of sailing experience but no certificate we can provide someone to sail with you for the first five days of your charter, taking you through the RYA Day Skipper syllabus. Once you have your certificate you can then continue your sailing holiday on your own. Your crew can take a Competent Crew course at the same time.